Kyrsten Sinema sounds like a cry baby who can't take the heat
In this article Kyrsten Sinema sounds like a cry baby who can't take the heat of running for office.

And last anybody that says Kyrsten Sinema is not tough on crime is a liar. Kyrsten Sinema attempted to flush Arizona's medical marijuana law which is Prop 203 down the toilet by passing a law which slapped a 300 percent tax on medical marijuana.

When it comes to passing insane drug war laws Kyrsten Sinema is a tough on crime as any Republican.

Sinema files FEC complaint against Parker

By DAN NOWICKI

Wed, Oct 24 2012

Rebekah L. Sanders, of The Arizona Republic's politics team, filed this post:

Democrat Kyrsten Sinema's campaign says it has filed a complaint with the Federal Election Commission against Republican opponent Vernon Parker in the U.S. House race for District 9, accusing Parker of using polling phone calls to attack Sinema without indicating he paid for the calls.

The FEC could not confirm it had received the complaint dated Oct. 19, but said there can be a lag time. Read the complaint here.

At issue is a Parker campaign poll this month of likely voters that included a negative message about Sinema when participants said they supported her. Sinema's campaign argues the poll constituted "electioneering," and Parker failed to provide a "paid for by" statement during the phone call that is required for campaign ads and communications.

Campaigns often use polls to test positive and negative messages against opponents and themselves. Sinema campaign spokesman Rodd McLeod argues the difference is that the purpose of this poll was "clearly to spread negative information."

The poll told Sinema supporters that she was a criminal defense lawyer who represented murderers and asked participants whether Sinema should release a list of her criminal clients. Parker's campaign and the Arizona Republican Party have criticized Sinema over the issue. Read more about it here.

Parker's campaign said Sinema's complaint is a distraction.

"The people of Arizona deserve to know who Sinema stands with, including her murderous clients, unfortunately she is dodging the issue, and this letter is her latest attempt," said Parker spokeswoman Alyssa Pivirotto. "Our campaign has not received notice of any complaint from the FEC, but when and if we do, we will respond completely and promptly."

McLeod said the poll is the latest example of Parker and his associates "operating under a cloud of questionable ethics," citing three instances:

--Parker used to employ Republican consultant Nathan Sproul, who was recently fired by the Republican National Committee over voter-registration fraud allegations. Parker has defended Sproul, saying he'll wait to pass judgment until more is known.

--As the FBI was investigating Attorney General Tom Horne for allegedly illegally coordinating with an independent political committee, Parker's campaign consultant Brian Murray, who helped run the independent committee, told Horne he would give Horne a heads-up if the FBI contacted him. However, Murray told investigators he repeatedly advised the committee's chair to avoid talking to Horne about its activities. Murray was so uncomfortable with the pair's contact that he notified an attorney.

--Parker was found by federal investigators to have provided misleading information to be certified to contract with one of the Small Business Administration's programs. He lost the majority of a $1.2 million contract and was blocked from participating in the program, though not other programs. Parker took the case to court, and it was dismissed. He is currently appealing to the 9th U.S. Circuit Court of Appeals.

District 9 covers parts of Phoenix, Scottsdale, Paradise Valley, Tempe, Chandler and Mesa.

Follow Rebekah on Twitter at @RebekahLSanders.
---
Kyrsten Sinema mocks ASU students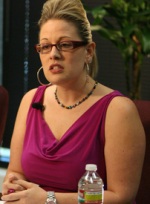 From this letter it sounds like ASU students think Kyrsten Sinema sucks!!!

Maybe it's that 300 percent tax she wanted to slap on marijuana?

Letter: Kyrsten Sinema mocks ASU students

By Letters

October 30, 2012 at 6:16 pm

As college students, we're expected to be Democrats. We're expected to have a liberal viewpoint on the social issues and not have much stake in economic issues at this point in our lives.

But liberal or conservative — a new video should have all ASU students seeing red.

In the video, Democratic Congressional candidate Krysten Sinema mocks ASU and its students. She refers to ASU as a party school, says students don't show up to class prepared because they party too much. And worse, she says we're so stupid we don't realize that Wikipedia is not a legitimate citation.

Sinema attended ASU. She teaches at ASU. And this is what she thinks of us? Sounds more like she's talking about the gum on the bottom of her shoe.

There are a lot of issues facing college students right now: Will we find jobs when we graduate? Can we pay off our student loans? Can we get student loans for graduate school?

We need to know the people in D.C. think enough of us to have our backs. But from the look of this video, Kyrsten Sinema will sell us out in a second. Do we really want to put our trust in someone who thinks we're stupid?

Hunter Moss

Undergraduate
---
Vote count on Wednesday, Nov 7
The Republic article said that this vote count was 100 percent complete, but that was a mistake. On Thursday, Nov 8 the vote count is still not complete and we don't know who won the election.
Congress - Dist. 9
Precincts reporting: 100%
Votes
Percent
Parker, Vernon B. (R)
74866
46.1%
Sinema, Kyrsten (D)
76967
47.4%
Gammill, Powell (L)
10293
6.3%
Write-in
203
0.1%
---
Sinema touts slim lead over Parker
Source

Sinema touts slim lead over Parker

By Rebekah L. Sanders and Amy B Wang The Republic | azcentral.com Wed Nov 7, 2012 1:09 PM

Democrat Kyrsten Sinema is touting her lead over Republican opponent Vernon Parker in the tight contest for Congressional District 9.

The results remained too close to call Wednesday morning, with potentially thousands of early and provisional ballots still uncounted, a process that could take days. Sinema's lead stood at 2,101 votes.

"We are optimistic that Sinema's lead will grow," the campaign said in a statement. "The campaign will remain vigilant to ensure that every vote is counted."

Sinema was making the rounds of television news shows Wednesday, saying she was confident but waiting for an official tally.

The spoiler in the race may turn out to be Libertarian candidate Powell Gammill, who garnered more than 10,000 votes, despite urging voters during an October televised debate to stay home on Election Day in protest of the political system.

Independents make up much of the district, which was added this year during redistricting to reflect Arizona's population gains. Voters in the region have swung between Republicans and Democrats in prior elections.

For months, the race for the U.S. House looked to be among the toughest in the state.

Sinema, 36, a former state lawmaker from Phoenix, and Parker, 52, a former Paradise Valley mayor, emerged from nasty, crowded primary battles for the open seat.

Sinema said that she would be a moderate in Congress, citing a record in the state Legislature of partnering with Republicans. She passed bills aimed at helping military spouses get jobs and cracking down on illegal-immigrant smugglers.

She accused Parker of taking the "tea party" line during the primary. She knocked his positions on abortion and education and his opposition to raising taxes on the wealthy. Sinema's campaign criticized Parker for his support of Maricopa County Sheriff Joe Arpaio and for interviews in which he stumbled, for instance, not being able to name hospitals in the district.

Parker touted his mayoral accomplishment of balancing the town's budget during the recession and his experience in Washington, D.C., working in both Bush administrations.

He called Sinema an extremist for statements she made as long as a decade ago about closing Luke Air Force Base and criticizing women who stay at home. He also criticized her support for President Barack Obama's health-care overhaul.

The district includes parts of Phoenix, Scottsdale, Paradise Valley, Tempe, Mesa, Chandler and Ahwatukee Foothills.

The Republican and Democratic parties, as well as outside groups, poured money into the race, trying to boost their numbers in Congress. A stream of congressional leaders, including House Speaker John Boehner and House Minority Leader Nancy Pelosi, flew into town to support the campaigns of Parker and Sinema.

Sinema gathered with supporters to watch the results at the Renaissance hotel in downtown Phoenix on Tuesday night. She told the crowd, "Right now, we're going to take a deep breath and wait for every vote to be counted."

She also sought to clarify statements used by her opponents about women who stayed at home. She said stay-at-home moms had been "lied to" in the campaign, and she respects their decision to stay at home just like her mother did.

Parker was optimistic Tuesday night as he left the GOP party at the Hyatt Regency in downtown Phoenix.

"We're still standing," he said, saying he was looking forward to the results whenever they come in. "There are a lot of ballots not counted. It could be days, it could be days."

Republic reporters Anne Ryman, Eugene Scott, Sean Holstege and Alex Ferri contributed to this story.
---
Sinema, Parker race for CD9 stays tight amid ballot concerns
Source
Sinema, Parker race for CD9 stays tight amid ballot concerns
Posted: Wednesday, November 7, 2012 8:15 pm
By ABC15 and wire reports | 0 comments
The battle between former state Sen. Kyrsten Sinema and ex-Paradise Valley Mayor Vernon Parker for Arizona's 9th Congressional District continues to rage on as local agencies work to tabulate early and provisional ballots.
Parker and Sinema were locked in a near dead heat as ballots were counted late Tuesday, and continued in a close battle Wednesday.
As of 5:30 p.m. Wednesday, Sinema's lead over Parker had jumped to more than 2,700 votes, according to the Maricopa County Recorder's Office. Hundreds of thousands of ballots are yet to be tallied.
The race to represent much of Tempe and parts of Phoenix, Scottsdale, Paradise Valley, Mesa and Chandler featured two months of vicious campaign ads.
Parker has weathered Democratic criticism that he's a tea party radical who will hurt children by cutting the federal education department. Sinema has been called a radical too liberal for the newly created district.
Republicans have a slight registration advantage, but both parties' totals are exceeded by independents.
---
More than 600,000 ballots in Arizona still uncounted
Source
More than 600,000 ballots in Arizona still uncounted
Posted: Wednesday, November 7, 2012 8:22 pm
Associated Press
More than 600,000 early and provisional ballots statewide have yet to be processed and counted, Arizona Secretary of State Ken Bennett said Wednesday.
Of that total, nearly 460,000 votes still haven't been counted in Maricopa County, and that's complicating the ability to call several close races throughout Arizona.
Bennett said the uncounted ballot total was 602,334 as of Wednesday, including Maricopa County's 344,000 uncounted early ballots and 115,000 provisional ballots yet to be verified.
State law gives the counties 10 calendar days — until Nov. 16 — to verify and process the remaining early and provisional ballots.
A state canvass to certify official election results for federal, statewide and legislative races is scheduled Dec. 3.
Individuals who had insufficient identification when they went to vote at a polling place were allowed to cast a "conditional provisional" ballot. They have until Nov. 13 to return to their county elections office with proper identification.
In some cases, close elections might not be decided for several days, or even a week. Pima County won't even begin counting provisional ballots until Monday, according to The Arizona Republic.
In many counties, a portion of the ballots that arrived before Election Day weren't counted before the polls opened. Some couldn't be counted in time, while others needed to be reprocessed because of overvotes, which occur when voters cast votes for too many candidates in a given race.
Early ballots that were dropped off at polling places have yet to be counted in many counties because voters' signatures need to be verified.
Pima County has 80,000 early and provisional ballots. Pinal County has 27,000, Coconino has 11,000, Navajo has 5,600, Gila has 3,400 and Apache has 2,457.
The number in Cochise County is unknown, but there is a large percentage of outstanding ballots, according to the secretary of state's turnout numbers. Cochise's voter turnout was at 38 percent Wednesday, the lowest of any county. The turnout could end up being about 70 percent.
Chris Roads, Pima County's deputy recorder and registrar of voters, said this year was the largest he has ever seen for provisional ballots and early ballots dropped off at polls.
Pinal County had yet to process about 20,000 early ballots and 7,000 provisional ballots as of Wednesday. Pinal County Elections Director Steve Kizer anticipates the last ballot will be counted early next week at the latest. Until then, he said the county will provide a daily update of election results.
---
We are screwed!!!! Tyrant Kyrsten Sinema won
Source
Democrat Sinema wins Arizona congressional seat
By BOB CHRISTIE | Associated Press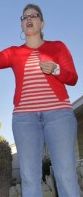 PHOENIX (AP) — Former Democratic state Sen. Kyrsten Sinema has been elected to represent a new Phoenix-area congressional district, emerging victorious after a bitterly fought race that featured millions of dollars in attack ads.
Sinema becomes the first openly bisexual member of Congress. Her victory came in a year when three states approved gay marriage, and at least five openly gay Democrats were elected to House seats. A Wisconsin congresswoman also became the first openly gay person elected to the Senate.
Sinema had a narrow lead on election night that made the race too close to call. But she slowly improved that advantage as more ballots were tallied in recent days, and now has a nearly 6,000-vote edge that is too much for Republican Vernon Parker to overcome.
Sinema, 36, said Monday she was "honored and ready to start working for the people of Arizona."
During the race, Parker was criticized by Democrats as a tea party radical who would hurt children by cutting the federal education department.
Republicans countered saying Sinema was too liberal for the newly created district and doesn't understand stay-at-home moms.
One other congressional race remains undecided in Arizona. Rep. Ron Barber, the hand-picked successor to Gabrielle Giffords, had a lead of a few hundred votes over Republican Martha McSally in the Tucson-area district.
---
Democrats Kyrsten Sinema, Ann Kirkpatrick claim congressional seats